Spring has finally sprung and what better way to celebrate than rustling up these tasty dishes that are not only are packed with Omega-3 but also feature seasonal spring vegetables.
What are Seasonal Spring Foods?
Some of our favourite foods that are in season during spring are:
Asparagus
Artichokes
Avocados
Beetroot
Broccoli
Carrots
Courgettes
Elderflower
Peas
Peppers
Radishes
Rhubarb
Strawberries
Spring greens
1. Seasonal Spring Salad with Salmon
Kicking off our trio of spring recipes is this seasonal salmon salad. Salmon is a rich source of the Omega-3 fats DHA and EPA and it makes for a delicious fresh salad when baked and paired with asparagus, which is also a seasonal spring vegetable.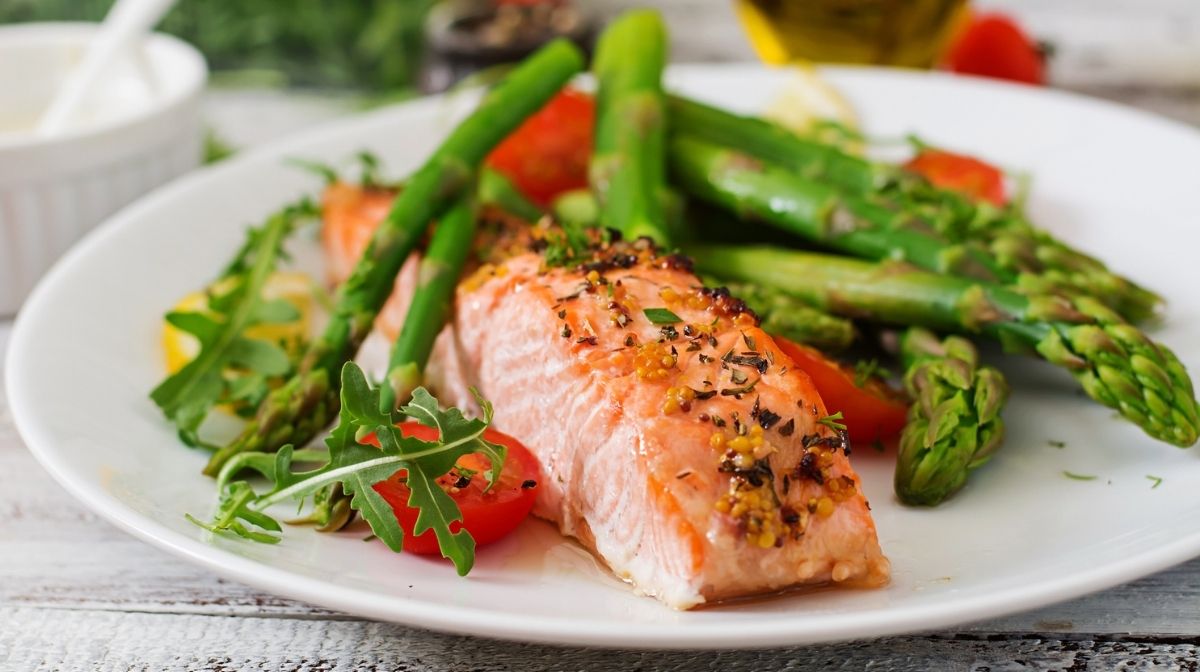 Ingredients (serves 2):
2x 200g salmon fillets
200g asparagus tips
50g peas
2 eggs
3 spring onions, finely sliced
2 tbsp olive oil
1 tbsp white wine vinegar
Mixed salad leaves, to serve
Squeeze of lime to serve
Method:
Preheat the oven to 150°C /Gas Mark 2.
To prepare your eggs, bring a pan of water to the boil and gently lower in the eggs, cook for 6 – 10 minutes (depending on how hard boiled you like them).
Whilst the eggs are boiling, season the salmon fillets and then place them on to a non-stick oven tray.
When the eggs have boiled, drain them and immediately run under cold water to cool. Set aside, and when ready to peel, tap the eggs onto the work surface to crack the shell and then peel off.
Place the salmon tray into the oven and bake for 10-15 minutes until just cooked, then turn the oven off and allow the salmon to finish cooking from the residual heat.
Meanwhile, bring a separate pan of salted water to boil and add in the asparagus tips. Boil for 5-8 minutes, until tender. At around 4 minutes in, add in the peas and cook until tender, which should take around 2-3 mins.
In a small bowl, make the salad dressing by whisking together the olive oil and white wine vinegar.
Finely chop the spring onions and toss with the mixed salad leaves, asparagus and peas with your salad dressing. Add on your eggs whole, or chop into pieces and spread across your salad.
Place your baked salmon on to the salad bed and it's ready to enjoy!
2. Anchovy Pasta
Anchovies are another oily fish rich in Omega-3 fatty acids and they can be much more affordable than other types of fish. Mixed into a pasta sauce and paired with some seasonal spring veg, anchovies can be the centrepiece of a delightful spring dish that's packed with Omega-3 and provides a great source of protein.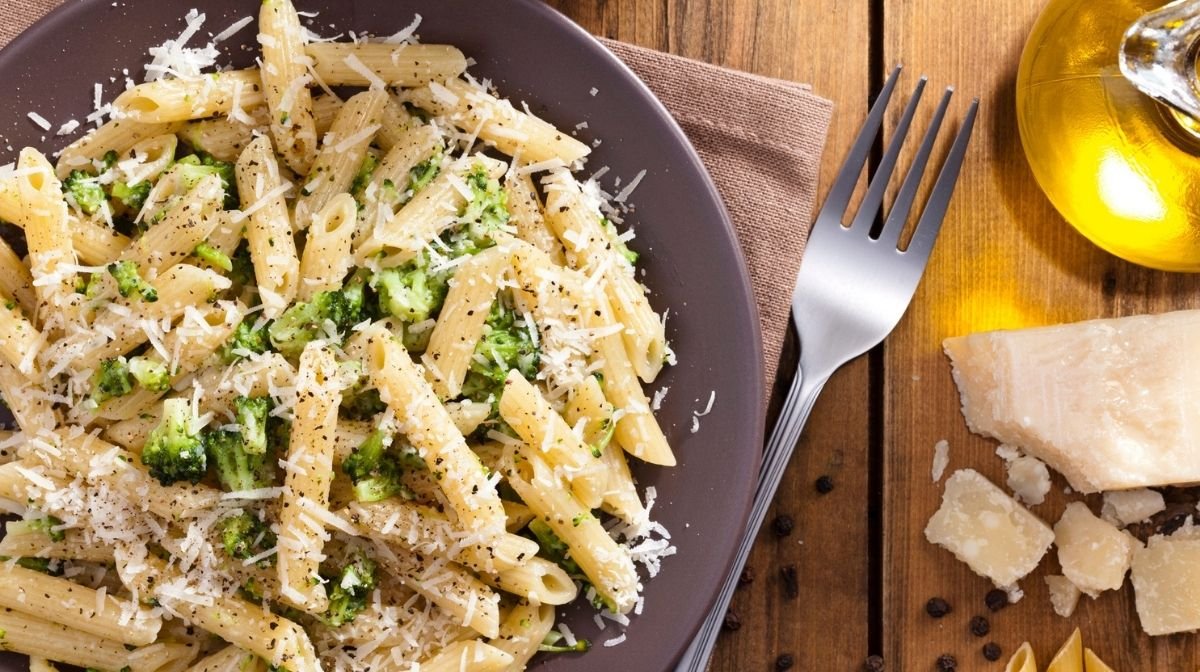 Ingredients (serves 2):
280g whole grain penne pasta
15 anchovy fillets, drained and chopped
6 broccoli florets, sliced
60g of baby spinach
400g tin of cannellini beans, drained and rinsed
1 small green courgette, sliced
5 garlic cloves, peeled and thinly sliced
1/4 cup extra-virgin olive oil
1/4 teaspoon chilli flakes
Crumbled feta, parmesan or goats' cheese to serve
Method:
Bring a large pan of salted water to a boil. Add in the penne pasta and cook according to the package instructions until al dente. Drain, making sure to save around 60ml of the leftover pasta water and place the pasta back in the pan.
Meanwhile, wash and slice your courgette and broccoli, and peel and slice your garlic cloves.
Heat the olive oil in a large pan on medium heat and add the garlic and chilli flakes. Cook for 1-2 minutes or until the garlic is fragrant and has a hint of colour.
Add in the beans, courgette and broccoli, cooking until the broccoli becomes a more vivid green.
Slice your anchovies, add them to the pan and stir continuously, breaking the anchovies down with a spatula until they've melted into the oil.
Once cooked, stir the anchovy sauce and veg into the pot with the pasta.
Turn the pan on to a medium heat, and then add in the spinach, leftover pasta water and white beans.
Cover the pot and cook until warmed through and the spinach is wilted.
Season to taste and serve garnished with your choice of cheese.
3. Tofu Veggie Stir Fry
If you're not a fan of oily fish or perhaps following a vegan diet, then this tofu stir-fry could be the spring dish for you. Tofu is a great source of Omega-3 and is also high in protein. In this recipe, it's stir-fried with a colourful array of seasonal spring veg.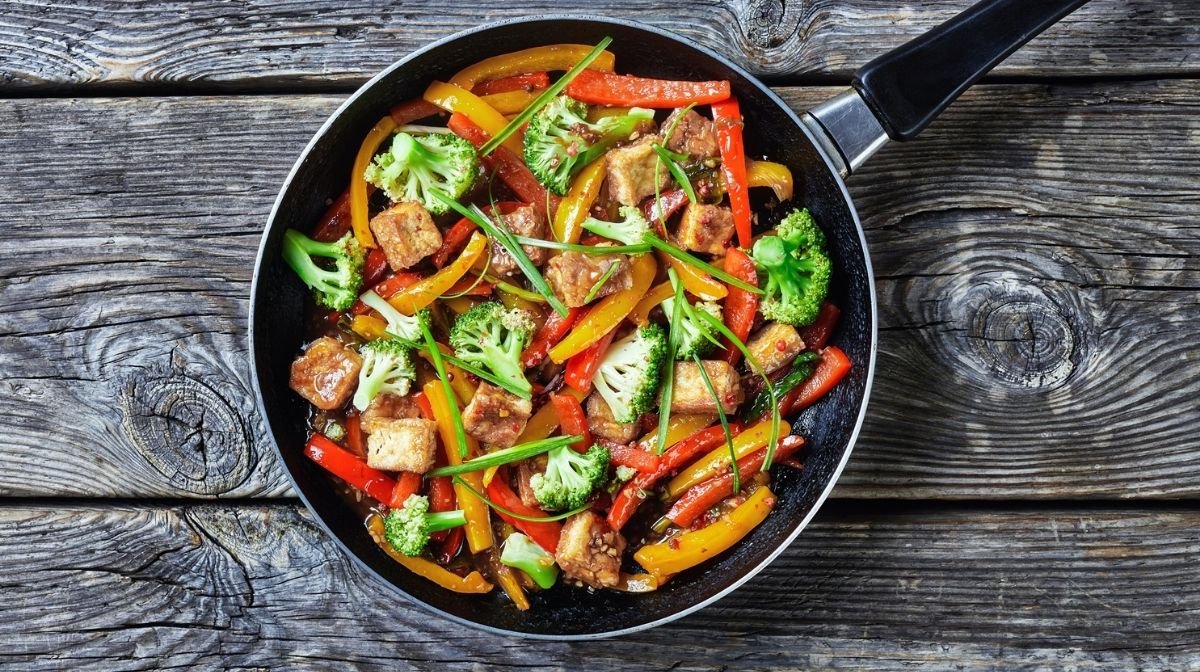 Ingredients (serves 4):
450g of tofu, drained and cubed
500g of rice
2 spring onions, chopped
1 small head of broccoli, cut into florets
1 red bell pepper, sliced
100g of carrot, chopped
2 cups of mushrooms, sliced
2 cloves of garlic, minced
1 tsp of ginger, grated (can also use ginger paste)
2 tbsp of soy sauce
40 ml lemon juice
2 tbsp of sesame oil
2 tbsp sesame seeds, to serve
2 packets of rice, to serve
Method:
To create your tofu marinade, thoroughly whisk together the soy sauce, lemon juice and ginger in a medium-sized bowl.
Drain or press your tofu and chop into bite-sized cubes. Toss the tofu into the marinade and leave in the fridge for 25 minutes.
Add salted water and rice to a medium saucepan and bring to a boil over high heat. Then simmer until water is completely absorbed and rice is tender, usually takes 15-25 minutes
While your tofu is marinading and rice is boiling, prepare your vegetables by slicing the mushrooms and bell pepper, then chop the spring onions, carrots, broccoli and mincing the garlic.
When the tofu marinade is ready, heat 2 tbsp oil in a large pan over a medium-high heat. Add in the tofu and turn occasionally and cook until golden on all sides. Remove the tofu from the pan and set aside.
Next, heat the sesame oil in a pan on a medium heat. Add in the minced garlic once the oil is heated and stir until fragrant.
Stir in the spring onions, carrot, mushrooms, broccoli and bell peppers until cooked, taking care not to let the vegetables become soggy, which should take 5-8 minutes.
Then, add in your tofu and continue to cook for a further 5 minutes until everything is fully heated through.
Sprinkle your finished stir fry with sesame seeds, serve over the rice and enjoy!
Explore our full range of Omega-3 supplements at MINAMI®.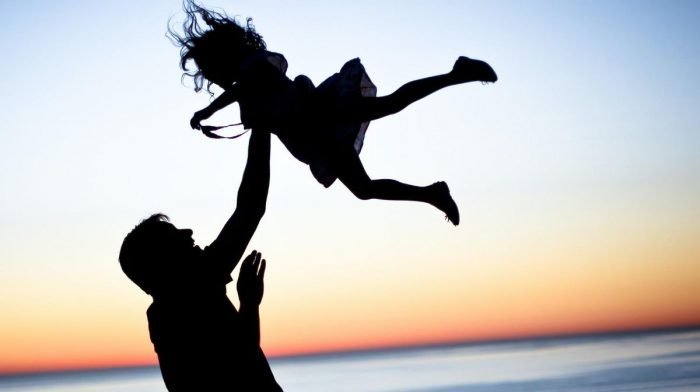 Explore which MINAMI® Omega-3 supplement could be the right one for your health & wellbeing needs.
Improve your Omega-3 levels by using MINAMI® supplements regularly. For best results and to see significant changes in your health, a daily usage of at least 3 months is recommended.