Kedgeree began life in India and was adopted by Victorians in Britain as a breakfast dish. This version uses kippers, although you could also use mackerel; the strong taste of the fish contrasts beautifully with the hard-boiled eggs and the spices, and the rice makes it a wonderfully filling brunch or even supper.
Kippers are high in Omega-3 fatty acids making them a great natural source of Omega-3. Omega-3 can aid a range of health benefits from supporting normal brain function and vision to maintaining cardiovascular health. As your body can't produce Omega-3 naturally, it's vital that you're getting the essential Omega-3 fatty acids you need from somewhere else.
Why not give this tasty kipper kedgeree recipe a go to help contribute to your omega-3 levels?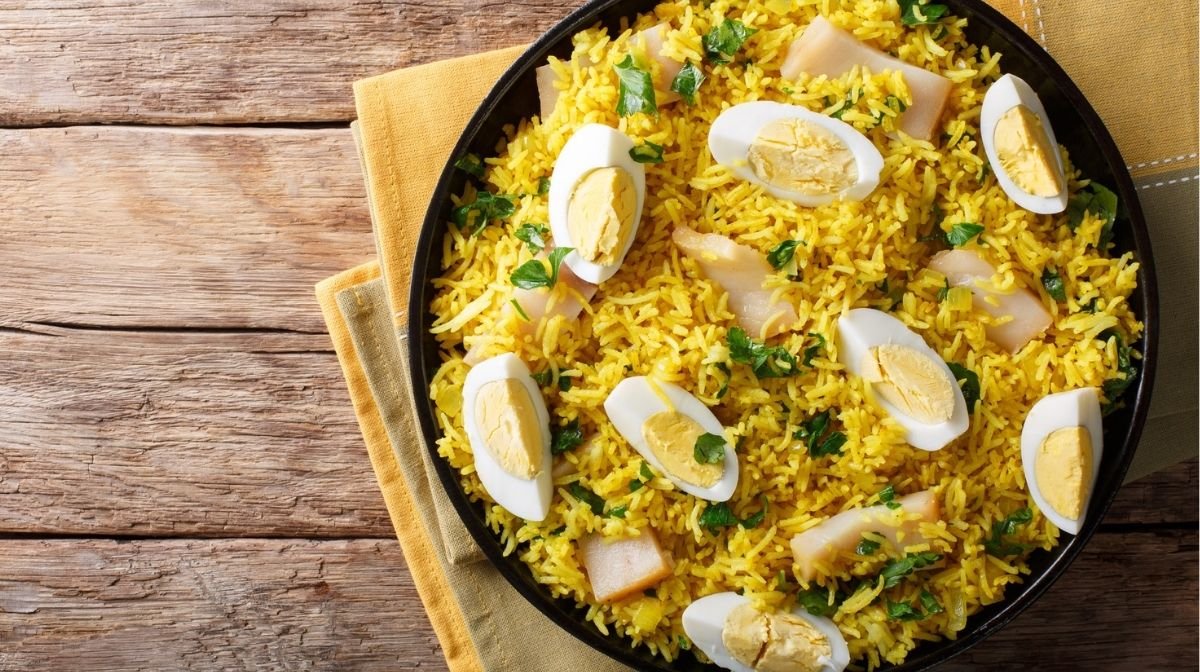 Kipper Kedgeree Recipe
Servings

2 people
Ingredients
500 g basmati rice
2 smoked kippers
1 onion, peeled and finely chopped
2 hard-boiled eggs, shelled and sliced into quarters
1 tbsp curry powder
½ tsp tumeric
Juice of 1 lemon
Method
Boil the rice according to the packet instructions.

In a separate pan, put the eggs on to boil.

While rice and eggs are boiling, finely chop the onion and fry off in a pan on a medium heat, cooking until translucent.

When the rice is cooked, drain the water from the pan and add it to your onions.

Then mix in the curry powder, turmeric, and lemon juice and stir on a low-medium heat for 5 minutes.

Remove from the hob and then flake the smoked kippers through the rice mixture.

Take the eggs off the boil, allow to cool for a few minutes, shell them and slice into quarters.

Divide the kedgeree mixture into two bowls and top with the sliced eggs.

Enjoy!
Oily fish may not be everyone's cup of tea, and it's not always easy to get the right quality and quantity of Omega-3 needed to support your health and wellbeing from fish alone. This is why many people choose to take Omega-3 supplements alongside a healthy, balanced diet.