As our bodies can't produce the omega-3 they need to stay healthy by themselves, it's important to get essential omega-3 fatty acids from elsewhere.
Oily fish like tuna, sardines, salmon, kippers, mackerel and anchovies are all good natural sources of omega-3; at MINAMI, we use fish oil from sardines, mackerel and anchovies in our high-concentration omega-3 supplements.
The health benefits of omega-3 can include helping to support normal brain function and vision, as well as maintaining cardiovascular health.
It's recommended that adults consume at least one portion (140 grams) of oily fish per week to contribute to their omega-3 levels. There are so many different ways to eat oily fish – here are three of our favourite omega-3-packed recipes:
1. Salmon Poke Bowl
Poke bowls are a type of Hawaiian cuisine, and typically involves diced raw fish, accompanied by rice and vegetables. This recipe uses salmon, but you could also make a tuna poke bowl or even a mackerel poke bowl instead. Bowl food provides a great opportunity to experiment with flavours and textures, so get creative and get your recommended weekly portion of omega-3 in a fun, tasty way.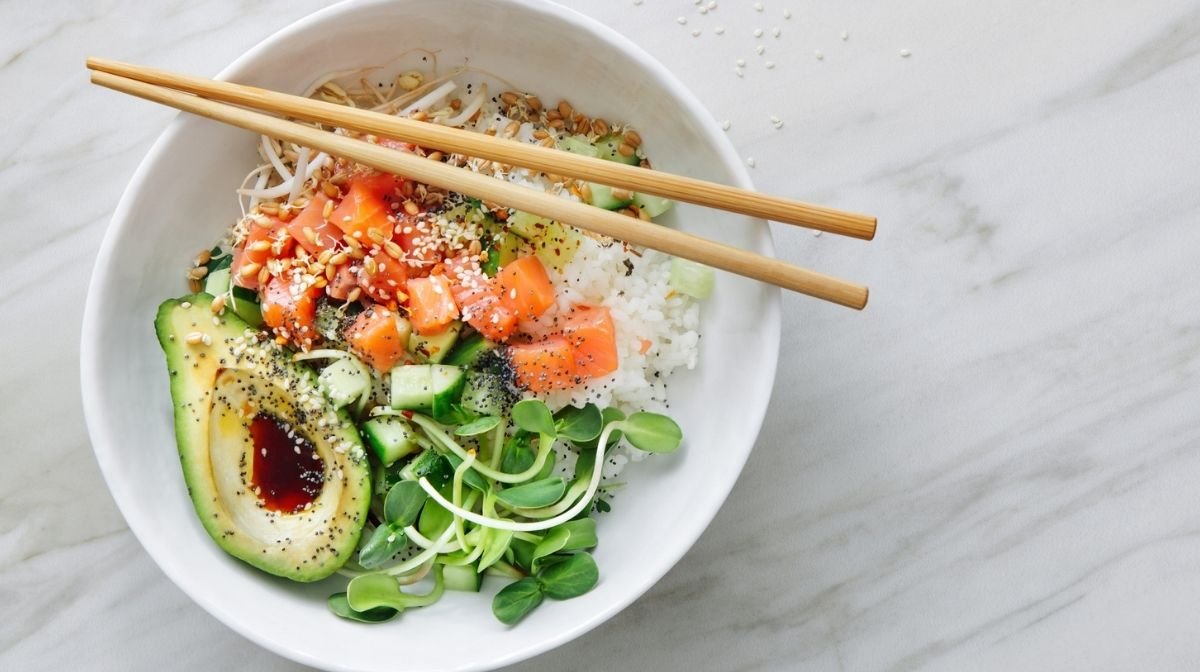 Ingredients (Serves 2):
2 sushi-grade skinless salmon fillets, diced into cubes
250g sushi rice, or another form of sticky rice, such as jasmine
3tbsp soy sauce
1 avocado, halved and with stone removed
2 spring onions, sliced
Juice of 1 lemon
1 carrot, grated
Sprinkle of sesame seeds
Method:
Prepare the sushi rice according to the packet instructions
Meanwhile, grate the carrot, slice the spring onion, halve the avocado and dice the salmon into cubes
Once the rice is cooked, drain and divide between two bowls
Top with the vegetables, and the diced salmon fillet
Squeeze over the lemon juice, add the soy sauce and finish with a sprinkle of sesame seeds for added crunch
2. Kipper Kedgeree
Kedgeree began life in India and was adopted by Victorians in Britain as a breakfast dish. This version uses kippers, although you could also use mackerel; the strong taste of the fish contrasts beautifully with the hard-boiled eggs and the spices, and the rice makes it a wonderfully filling brunch or even supper.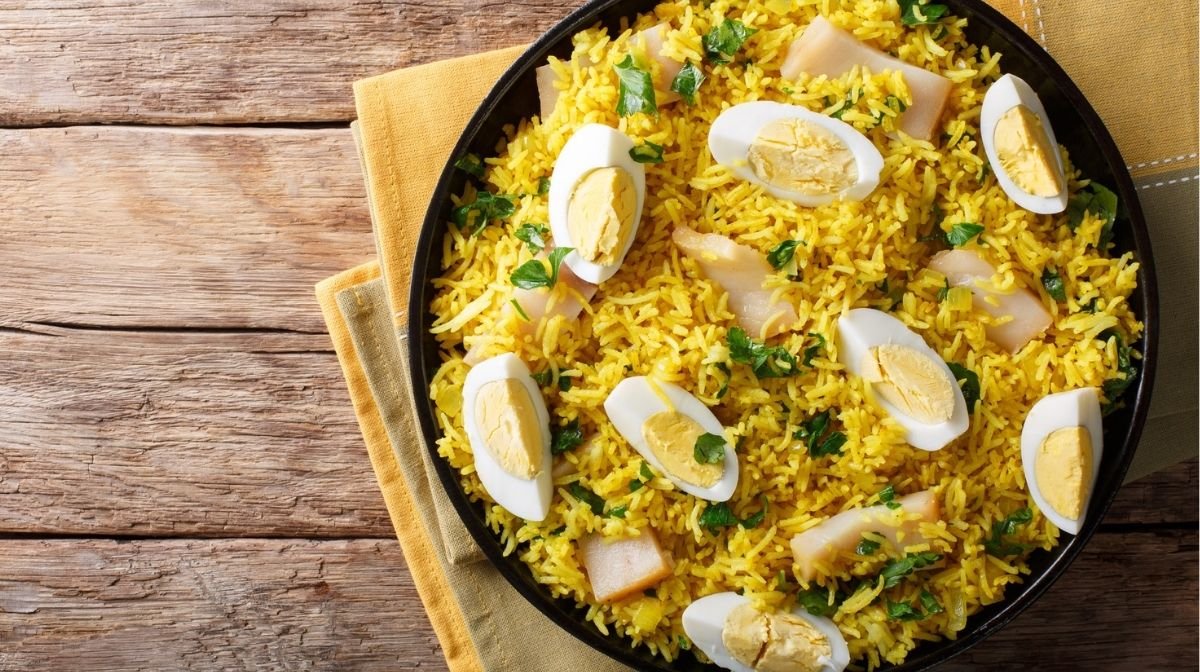 Ingredients (Serves 2):
500g basmati rice
2 smoked kippers
1 onion, peeled and finely chopped
2 hard-boiled eggs, shelled and sliced into quarters
1 tbsp curry powder
½ tsp turmeric
Juice of 1 lemon
Method:
Boil the rice according to the packet instructions
In a separate pan, put the eggs on to boil
When the rice is cooked, drain the water from the pan and add the curry powder, turmeric and lemon juice
Flake the smoked kippers through the rice mixture
Take the eggs off the boil, allow to cool for a few minutes, shell them and slice into quarters
Divide the kedgeree mixture into two bowls and top with the sliced eggs
Enjoy!
3. Mediterranean Tuna Steaks
Tuna steaks are a great alternative to red meat, and delicious on top of a bed of salad leaves or Mediterranean-style veg. Tuna is a fantastic source of lean protein, so serving it with some steamed or stir-fried veggies can make for a healthy, low-calorie meal.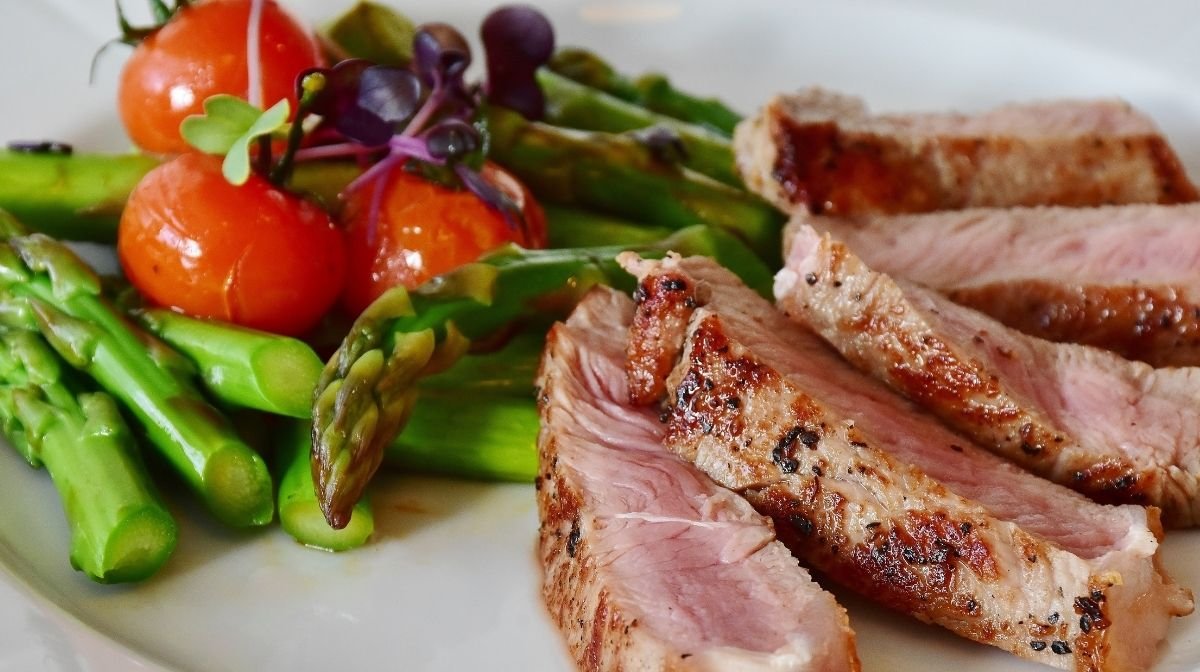 Ingredients (Serves 2):
2 tuna steaks
1 red onion, peeled and sliced
1 courgette, sliced
1 red pepper, deseeded and sliced
1 yellow pepper, deseeded and sliced
2 garlic cloves, peeled and crushed
100g cherry tomatoes
Drizzle of olive oil
Method:
Preheat the oven to 180°C
Peel and slice the onion, peel and crush the garlic, slice the courgette, and deseed and slice the peppers
Place the vegetables on a baking tray along with the cherry tomatoes, and drizzle with a generous amount of olive oil. Toss the vegetables in the oil to ensure they're all well-coated
Roast in the oven for 25 minutes
Meanwhile, place a little oil in a frying pan and turn the hob on high
Place the tuna steak in the pan and allow to cook for around 2 minutes, before carefully turning over and searing for another 2 minutes on the other side
Rest the tuna for a few minutes, then slice it into strips to be enjoyed alongside the Mediterranean vegetables when out of the oven
Oily fish isn't for everyone, and it can be a challenge to get the amount and quality of omega-3 you need to support your health and wellbeing from fish alone. This is why many people choose to take omega-3 supplements.
MINAMI omega-3 supplements are made from sustainably sourced fish oil, while we also have vegan omega-3 softgels, made from algae oil instead.